Are you ready for the return of Jesus Christ? The Bible tells us that Jesus will one day return to earth to establish His eternal kingdom. As believers, we look forward to this day with great anticipation and hope, but what about those who do not yet know Him? To them, the return of Jesus may be a source of fear and uncertainty. But it doesn't have to be. In this article, we will explore what the Bible says about Jesus' expected return, and offer an action plan for those who want to be ready to meet Him.
What the Bible says about Jesus' expected return
The Bible is clear that Jesus will one day return to earth. The timing of His return is not revealed to us, but we are told to always be ready. Here are some scriptures that speak of His return:
Matthew 24:27 – "For as the lightning cometh out of the east, and shineth even unto the west; so shall also the coming of the Son of man be."
Matthew 24:44 – "Therefore be ye also ready: for in such an hour as ye think not the Son of man cometh."
Acts 1:11 – "Which also said, Ye men of Galilee, why stand ye gazing up into heaven? this same Jesus, which is taken up from you into heaven, shall so come in like manner as ye have seen him go into heaven."
1 Thessalonians 4:16-17 – "For the Lord himself shall descend from heaven with a shout, with the voice of the archangel, and with the trump of God: and the dead in Christ shall rise first: Then we which are alive and remain shall be caught up together with them in the clouds, to meet the Lord in the air: and so shall we ever be with the Lord."
These verses, and many others like them, make it clear that Jesus will return one day, and that His return will be sudden and unexpected. As believers, we are called to be ready and to live our lives in anticipation of His coming.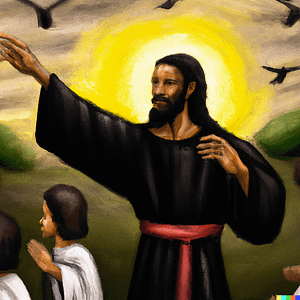 A message to unbelievers
If you are reading this and you do not yet know Jesus Christ as your Lord and Savior, I want to share a message with you: Jesus loves you, and He wants to have a personal relationship with you. He died on the cross to pay the penalty for your sins so that you could have eternal life with Him. But in order to receive this gift of salvation, you must believe in Him and repent of your sins.
If you are ready to make this commitment to Jesus, here is an action plan to help you get started:
Confess your need for Jesus. Acknowledge that you are a sinner in need of a Savior and that Jesus is the only way to be saved (Romans 3:23, Acts 4:12).
Repent of your sins. Turn away from your old way of life and turn toward Jesus (Acts 3:19, 1 John 1:9).
Believe in Jesus. Put your faith in Him and trust that He died on the cross for your sins and rose again from the dead (John 3:16, Romans 10:9-10).
Follow Jesus. Commit to living your life for Him and obeying His commands (Matthew 16:24, John 14:15).
If you take these steps, you can be confident that you are ready to meet Jesus when He returns. And as you walk with Him, you will experience the joy and peace that only He can bring.
Conclusion
The return of Jesus Christ is a topic that can evoke a wide range of emotions. For believers, it is a day of hope and anticipation, as we look forward to being with our Lord and Savior forever. For unbelievers, it can be a day of fear and uncertainty, as they face the reality of their separation from God.
But the good news is that it's not too late. No matter who you are or what you've done, Jesus is waiting with open arms to receive you. He loves you, and He wants to give you the gift of eternal life. All you have to do is believe in Him and trust Him as your Savior.
So, if you are not yet a believer in Jesus Christ, I encourage you to take that step today. Confess your need for Him, repent of your sins, believe in Him, and follow Him. By doing so, you will be ready to meet Him when He returns, and you will experience the abundant life that He offers. And for those of us who are already believers, let us live each day with a sense of urgency and anticipation, sharing the love of Christ with those around us and looking forward to the day when we will see Him face to face.
In conclusion, let us take the words of Revelation 22:20 to heart: "He which testifieth these things saith, Surely I come quickly. Amen. Even so, come, Lord Jesus." Let us eagerly await His return and let us be ready to meet Him when He comes.
Please see YouTube For Sunday Worship and much More